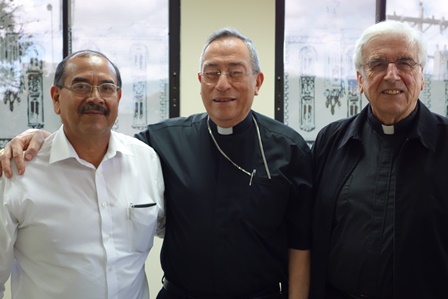 Cardinal Rodriguez Challenges Us to Combat Economic Exclusion and Global Indifference
Cardinal Oscar Rodriguez addressed 300 PICO leaders from the United States to kick off a "Year of Encounter: Confronting the Economy of Exclusion". Exclusion is a reality for many in the United States, but for many, many more in the developing world. PICO is battling the effects of globalized indifference is overwhelming millions in El Salvador, Guatemala, Rwanda and Haiti.
Rodriguez was joined by his brother Bishop, Elias Bolonos from El Salvador, in sharing Pope Francis' searing critique of social and economic injustice. They provided a Gospel-based explanation of why it is important to engage with and advocate on behalf of poor people. "The economy is s system that is ill from the inside and needs healing" because it "is centered in money and markets, not the human person. The poor person is the victim of entrepreneurs (who give) work but without paying a minimum wage. They are thieves!"
Cardinal Rodriguez urged the gathering to press policymakers to assure that the rights of those marginalized by the economy, race, immigration and incarceration are not ignored.  The problem of economic inequality stems from what he called "the terrible syndrome of Cain."  "Am I the guardian of my brother? Yes!" he said, implying that everyone is the guardian of one's brother and sister across the world.
Cardinal Oscar Andres Maradiaga Rodriguez is Archbishop of Tegucigalpa, Honduras; the Coordinator of Pope Francis' Council of Cardinal Advisors; and President of Caritas Internationales.