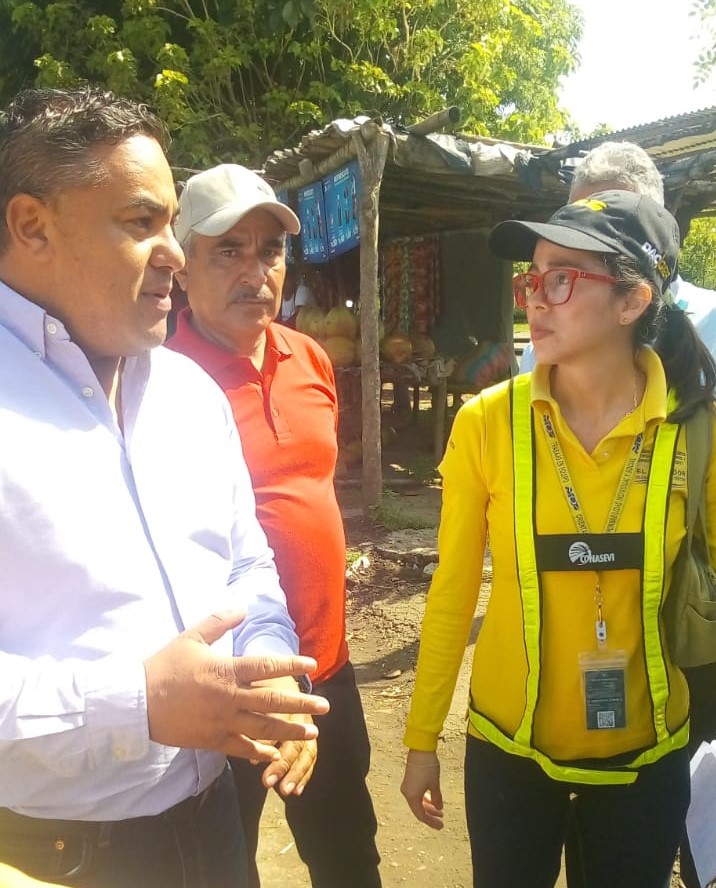 COFOA leaders press for street safety in Cuidad de Arce
When Wilber heard about the death of sixteen year old Cindy Vides, he was moved to action. Cindy was holding her baby when she was hit by a speeding bus as she tried crossing the busy Pan American Highway. Cindy died, but her month old baby survived. Last month Cindy's mother and sister joined other COFOA leaders to show the Mayor and Public Works Engineers the spot where this awful accident happened. They came away with a promise for new traffic signs and a pedestrian overpass.
Because so many others have been killed or seriously injured at this same spot, COFOA leaders from St. Rose of Lima Parish, the Local Development Association and the community decided it was time to press local officials for a solution. The Public Works Engineer measured traffic speed and recommended installing new traffic signs. The Public Works Architect suggested building a pedestrian overpass. The ADESCO Chair pledged to approach the owner of some private property needed to build it.The architect promised to ask a local company to donate the money for the construction of this important community project. Mayor Francisco Moran pledged to exempt the walkway from taxes. Leaders promised to organize the larger community to sustain pressure to get these improvements completed.
Wilber Hernandez supports leadership teams from St. Rose of Lima Parish in many neighborhoods across Cuidad de Arce, the capital of La Libertad Department where 750,000 people live.  United We Are Stronger!