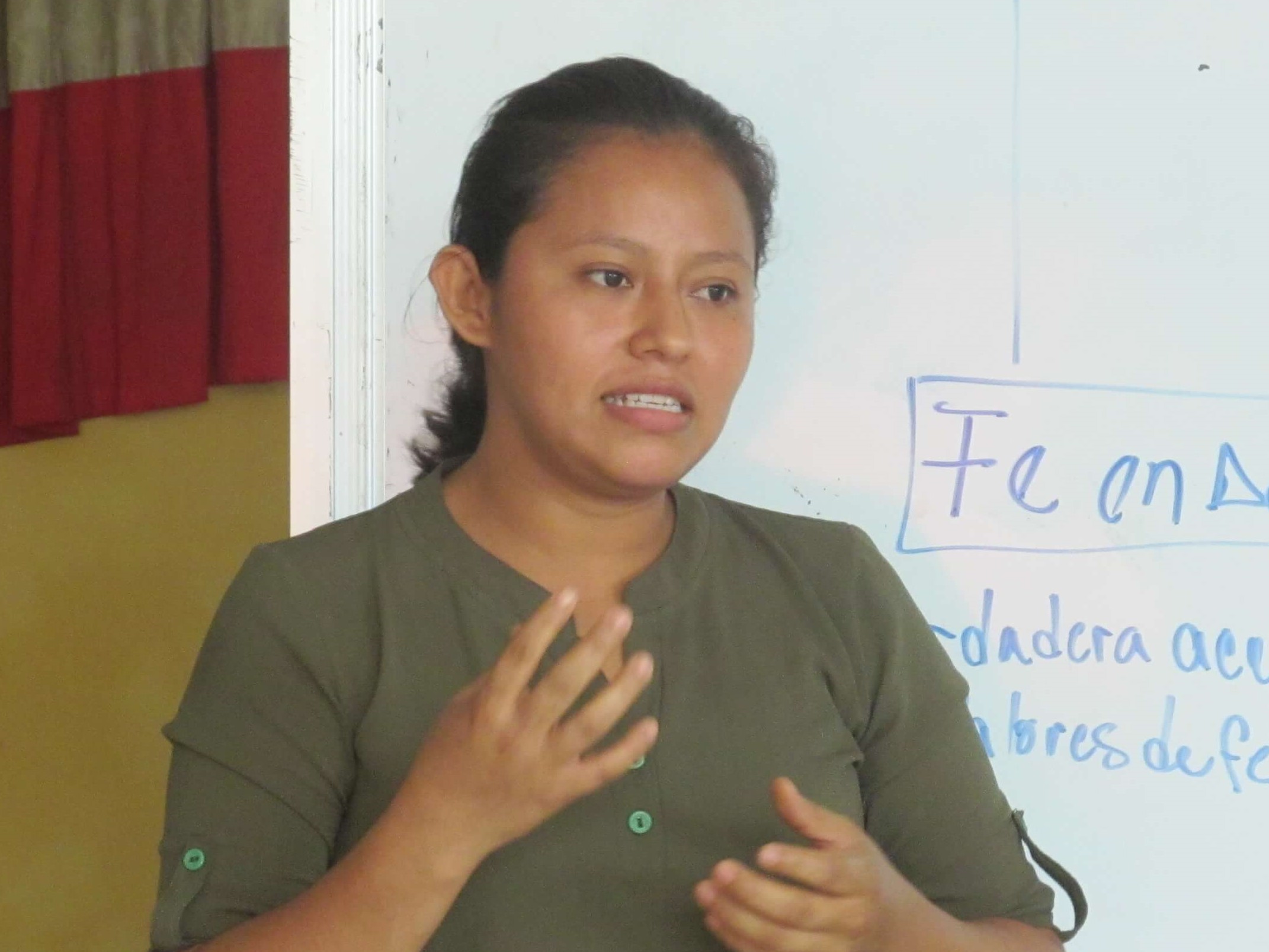 El Salvador: COFOA will grow with your support
"I grew up in San Salvador. I want to stay here. I'm so happy to join the COFOA staff and help my people fight for our rights and improve our communities." – Karla Argentina Arenivar
Karla is 23 years old. She just joined the organizing staff at COFOA two months ago. She has already won the trust of Fr. Santiago and the leaders of St. Francis of Assisi Parish who are coming together to reclaim their neighborhood in Soyopango, one of the most troubled cities in El Salvador. St. Francis is just one of 20 parishes in the Archdiocese of San Salvador where leaders are starting organizing to address the root causes of forced migration. Last year, supporters like you provided funds needed to launch this expansion by COFOA.  Your support now will help Karla and COFOA staff continue this work. Here are some examples of how you can make a difference.
Make a donation today and it will be matched. 
In municipal organizing campaigns across El Salvador, COFOA leaders lift the voices of ordinary people who demand basic needs and justice. A new team at St. Rose of Lima Parish met with the mayor of Cuidad de Arce to push for road improvements and a pedestrian bridge across a dangerous highway. In Ostuma, leaders met with their mayor and city council to demand transparency in the allocation of national funds for development. In San Juan Talpa, leaders pressed their mayor for infrastructure to deliver water to 60 families. In Ponderosa, leaders are meeting with national legislators for legislation to secure deeds for 100 families who were fraudulently sold land without proper titles.
For 12 years, COFOA has helped dozens of local communities win battles like these. As their reputation for effective grassroots organizing grows, Catholic and Anglican clergy are inviting COFOA to work in their communities. They see authentic civic engagement as a much-needed antidote to corruption, extortion and violence that is forcing people to migrate. Local victories are opening the door to national expansion. Work has just begun in some of the most troubled communities in El Salvador.
Currently, in addition to work in St. Rose of Lima in Cuidad de Arce, leadership teams are forming in Santa Ana Parish in Barrio Santa Anita, Our Lady of Guadalupe Parish in Colonia Guatemala, and St. Francis of Assisi Parish in San Salvador and in St. Andrew the Apostle Episcopal Church in Soyopango.  This expansion is the result of an invitation by Father Octavio Cruz, the Director of Social Pastoral Ministry in the Archdiocese of San Salvador, encouraging clergy and lay leaders from 173 parishes to explore a partnership with COFOA. To support these expansion opportunities, COFOA has hired three new organizers – Karla, Wilber and Jose. COFOA needs your support to sustain this expansion.
Some examples of expansion work:
In Soyopango, Father Domingo Solís and  leaders at St. Francis Assisi are beginning a listening campaign. In addition to work with St. Francis, twenty leaders from St. Andrew the Apostle Episcopal Parish have launched a listening campaign in Antepec community of Soypango. Through face-to-face, house and community meetings, leaders are hearing the pressures families face in this neighborhood.  In addition to rampant violence, access to clean water, trash-filled streets, lack of social or job opportunities for youth are a few of the problems that are surfacing.
In San Salvador, Fr. José Ángel Renderos has invited Karla to work with his parish in Barrio Santa Anita. He asked her to present COFOA to five other priests in the area.  Similarly, Karla is working with Fr. Hector Cruz to begin work at Nuestra Señora de Guadalupe in Colonia Guatemala. She is meeting with more than 20 people each week to encourage their leadership.
After seeing the work of COFOA in Cuidad de Arce, Fr. Jose Leon who is Social Pastoral Coordinator for nine other parishes in the La Libertad Department invited COFOA to share this work with 60 priests and leaders from these parishes.  Work has begun in San Juan Vianney parish.
Thirty COFOA leaders just graduated from a program aimed at strengthening their spiritual, psychological, and political skills. They publicly committed to expand organizing efforts in their local parishes in La Paz Department.
Little by little, COFOA is providing support for ordinary people to claim the political power needed to address critical issues of violence, environment and corruption.