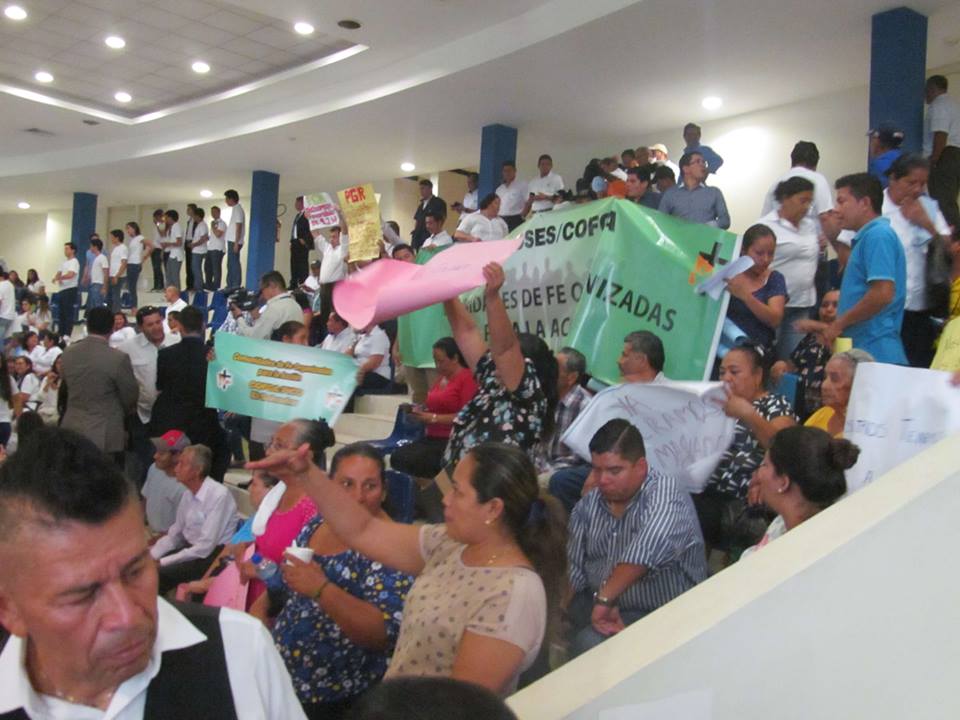 La Galilea leaders demonstrate at legislature to secureunprecedented legislation
El Salvador: Sixty COFOA leaders boarded buses early April 26th to travel to the capitol building in San Salvador to press the legislative Commission on Public Works, Transportation, and Housing to pass the Presidential Decree providing clear title to properties of 180 families who settled in La Galilea after the war twenty years ago. Leaders conducted multiple meetings with legislators and held demonstrations in support of this unprecedented legislation, but at the end of the day leaders left the session deeply disappointed. They witnessed rightwing legislators fail to move the decree to a vote by the full legislature.  Their representative, Alma Cruz, failed to push their case and demand a vote. Leaders observed the government polarization and dysfunction first hand. They feel disrespected. While leaders did not achieve their goal, they know they have made significant progress and can move forward.
This legislation is the result of numerous meetings with elected representatives and FONDAVIPO officials over the past two years. President Salvador Sánchez Cerén has approved the decree that would make 182 families legal owners of the lots and homes where they were resettled by a fraudulent NGO, PROCADES. The value of these properties is estimated to be $1.4million. Lack of a legal title makes it impossible for residents to secure loans, determine fair taxes or take other needed actions.
Since the newly elected legislature will be seated in May, leaders will have to restart the process. They are determined to win!