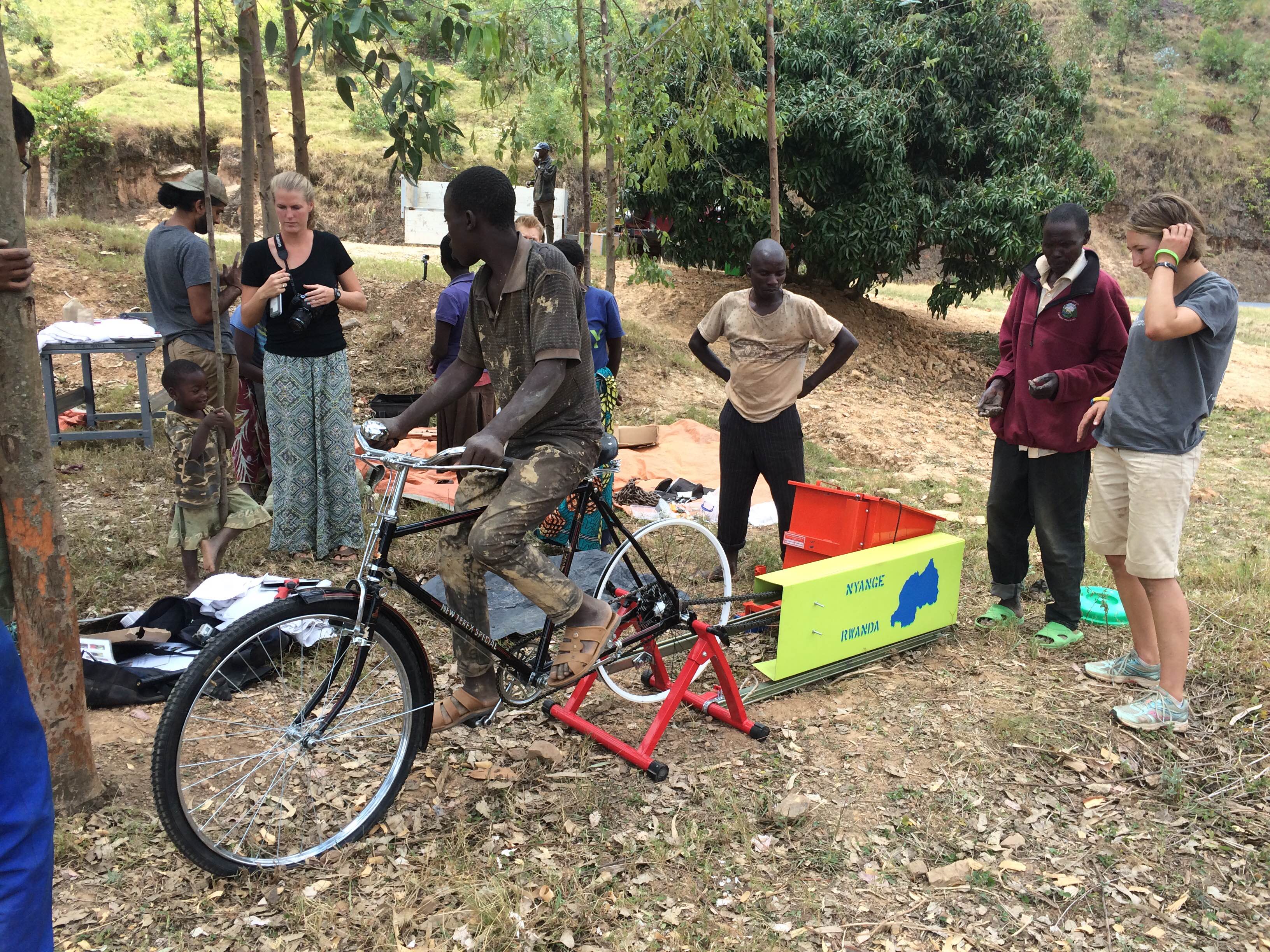 Nyange Partners Are Meeting Challenges to Make Tiles, Build Homes, and Build Community
When a Santa Clara student asked women leaders, "When was Nyange at its best?", they all said "right now", because their tile-making cooperative is providing them with their first opportunity for a new life. With training and support of PICO Rwanda, the women formed their cooperative to build houses for the poorest in the community with bricks and roofing tiles they make by hand. So far they have built three homes and baked enough tiles to roof them and even sell some to generate a little income. In partnership with the Engineers Without Borders (EWB) Club from Santa Clara University and others, they are about to make a breakthrough.
On their second trip to Rwanda, student engineers delivered a tile press and a clay mixer that will reduce the time and labor it takes to make roofing tiles. The next step is to design and construct a kiln that will bake the tiles. But even these steps present challenges for the Nyange community and their partners.
The clay deposits used to make tiles come from two pits located deep in the valley on either side of a ridge along the road where the co-op's building is located. At those sites, co-op members excavate clay and make bricks and tiles. This requires both extraordinary physical effort to dig and mix the clay and then push the clay densely into the mold, and skill to create a uniform tile.  The current kiln in operation takes three days to fire about 2,000 tiles. The kiln burns precious wood and is very inefficient. Finished tiles and bricks then need to be carried to the site where houses are being constructed.
The challenge of pressing high quality tiles is being met. After designing the tile press last year, EWB left it with the Kigali Institute of Technology who reinforced it with extra steel to handle the heavy clay coming from the pits in Nyange. When the students delivered it to Nyange, the community greeted them with joy. First tests to press tiles did not go well, because the clay mixture did not contain enough water. Using properly moistened clay, their team experimented and created 10 tiles using various techniques in the forming process.  The experimental tiles appear very promising for decreasing the porosity and increasing their strength, compared to their hand rolling method, resulting in improved quality and a higher price on the market.
EWB students designed the mixer using a bicycle to drive mixer blades, and it promises to provide good quality clay to press into tiles. However, essential parts got delayed in airline transfers and then were held in customs because government agents thought they were going to be used by a foreign for-profit company. After Pr. John applied his relational magic, the mixer has been assembled and tested by the Nyange community. The mixer worked like a charm. Leaders were really pleased that the bike riding was so much easier than stomping the clay with their feet to mix in water.  They were excited to begin using the mixer to increase production.
The challenge of building the kiln is being answered by a second partner, SKAT, a Swiss NGO. Santa Clara students were ready to meet the challenge, but the five years it would take them to design and construct a kiln was too long – Nyange needs the kiln as soon as possible. SKAT is prepared to work with the Nyange community immediately to determine the best location and begin to construct a kiln similar to ones already successfully operating in other parts of Rwanda.
There are many remaining challenges to bring this tile making business to fruition, but the women in Nyange are applying PICO organizing to meet these challenges. They are building a united community that is committed and capable of working with partners to create a future beyond poverty.
We are grateful to Santa Clara University for their continuing commitment to work with Nyange. We urge you to become a partner as well.