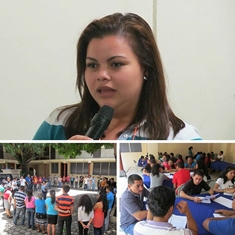 Help Gabriela and the Young People of El Salvador Create Their Own Future
Gabriela is 22 years old. She lives with her grandparents in El Salvador. Her parents fled to the United States when she was nine. She could feel sorry for herself. She could be a victim of violence in her country. She could try to flee as well. Instead, she is fighting back.
Gabriela and 60 other young people are learning how to organize their peers and find alternatives to gangs and violence. They gather every two weeks to build community and develop a plan of action. They have interviewed hundreds of their peers from towns across the La Paz Department. They are meeting with local officials to find resources to create pathways to jobs and opportunity.  They are planning to mobilize hundreds of their friends and demand change. Gabriella and her colleagues believe the future lies in their own hands.  PICO supports Gabriella and the youth of El Salvador as they build community and change lives.
Because of friends like you, PICO International is helping hundreds of grassroots leaders like Gabriela in El Salvador, Guatemala, Haiti and Rwanda. Please help Gabriela and people of La Paz build their own future. Your donation will be matched by a generous friend of PICO Rwanda. Help us reach our goal of raising $100,000 by year's end. A donation of $25, $50, $100, or $1,000 will make all the difference.  Remember, make your gift now and it will be matched.