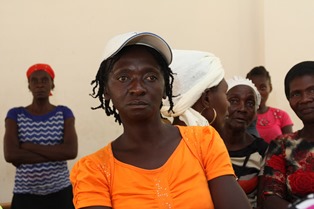 Hurricane Matthew Impacts OPODNE
OPODNE leaders are demonstrating remarkable resiliency and determination in the face of continuing challenges of natural disasters and government dysfunction. Hurricane Matthew destroyed property and flooded land denuded by decades of environmental degradation. National elections have been delayed for months, leaving local communities with no resources to address drastic needs for services and improvements.
In Northeast Haiti where OPODNE is located, the impact of the hurricane was not as severe as in the south where two major cities were completely destroyed. Various humanitarian agencies have estimated that Hurricane Matthew killed more than 900 people in the south, left 175,000 people homeless and millions of dollars in damage. This is the second major catastrophe to hit Haiti in less than six years. The devastating earthquake in 2010 killed more than 250,000 people.
Since most Haitians rely on subsistence agriculture to survive, the loss of their crops and farm animals will contribute to famine in the country. In addition to lack of housing and food, the population is more vulnerable to the outbreak of cholera – especially in the south where the health system has collapsed.
Although the northeast was spared the brunt of hurricane Matthew, we expect thousands of people to migrate from the south to the northeast in search of better living conditions. This migration will put pressure on the meager resources of these communities. The Northeast Department was deeply impacted last year when the Dominican Republic expelled thousands of Haitians. Many opted to stay in the northeast near the border. OPODNE, in collaboration with the Catholic Diocese and Protestant churches in the Northeast, has been engaging local communities in various economic projects to alleviate the plight of the population and to help them address their economic and social issues through organizing.
In this difficult moment, we are asking all our friends to keep Haiti in their prayers and to support us in any way you can. Please consider a donation to support our work to rebuild our communities and economy in this time of crisis. http://bit.ly/1Tqd9vX