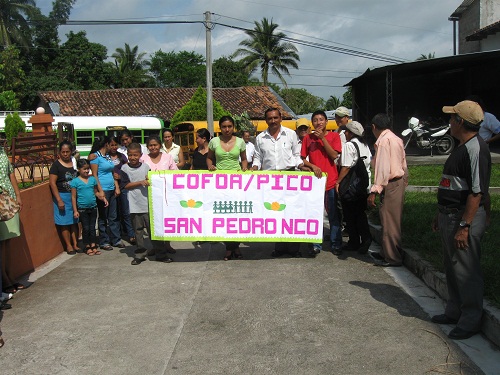 PICO Central America Site Visit July 2012
Please join us in this unprecedented opportunity to learn about PICO's work in El Salvador and Guatemala in July 2012! You will meet PICO Central American leaders and hear about their progress getting access to health care, increased safety and reduced crime, better roads and clean water, new programs and activities for youth, and economic development.
Our goal is to expand relationships and share learning between US PICO leaders and staff with PICO federations in Central America. The trip is planned for July 2012, with 12 days in Central America and two travel days.  You'll have some time sightseeing, relaxing at the beach and basic R&R as well.
Estimated cost is $840, including lodging, food, bottled water and ground transportation – not air fare.  Interpretation will be provided for non-Spanish-speaking participants.  Lodging will be in church centers or family homes most of the time.
This is a unique opportunity that will inspire and strengthen us as PICO leaders. Space is limited:  if you are interested and for more information, please contact  Patty Lawless soon at patty@mopdenver.org.
Alberto Velazquez, PICO Central America, Executive Director
Fr. John Baumann, PICO, Founding Director and Director of Special Projects
Kevin Malone, PICO Central America, Development Director
Patty Lawless, PICO Central America ally/MOP Denver, Lead Organizer