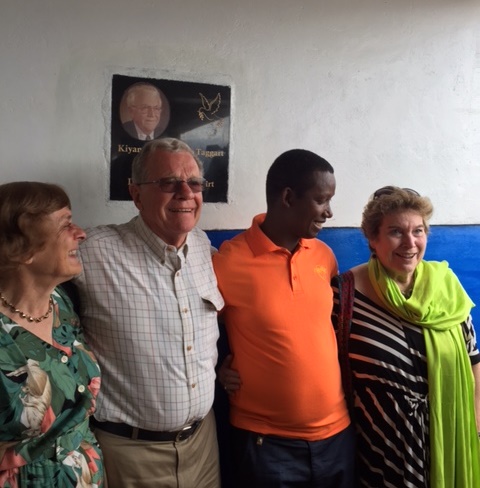 Rusumo Health Clinic is dedicated to the memory of "Doc" Taggart
"I was blown away!" and "I was in tears!" These were the feeling expressed by Jack and Karen Taggart as they were greeted by more than 1000 villagers when they arrived for the dedication of the Rusumo Health Clinic. The Taggart's generous financial contribution, coupled with community labor organized by PICO-Rwanda, and engineers and equipment provided by the Kirehe Mayor, built this beautiful clinic in just eight months. Before the ribbon cutting ceremony and clinic tour took place, more than 150 people who started to line up at 8 AM had already received medical attention.
Dedicated to Jack's father, Melvin "Doc" Taggart, the clinic fulfilled his dream and the dream of the Rusumo community to meet the critical health care needs of people in Africa. PICO-Rwanda leaders and the Kirehe District Mayor Gerald Muzungu were joined by more than 100 officials and 1000 people to express their gratitude and celebrate this new achievement for PICO Rwanda. The clinic will serve more than 17,000 residents in the Rusumo area, along with many people coming from Tanzania via the nearby border crossing. Many thanks to Jack and Karen. Congratulations, Rusumo leaders!