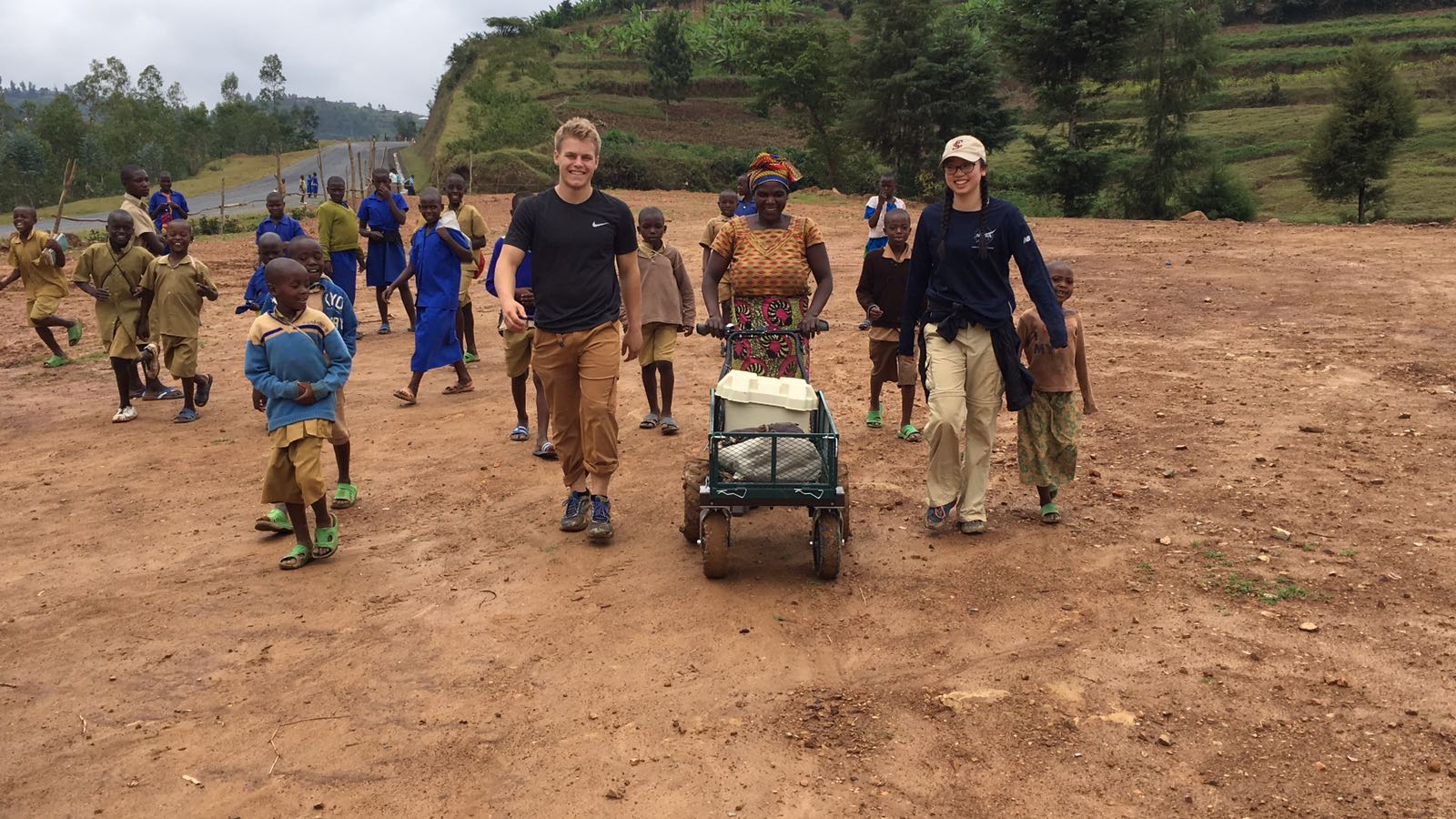 Student engineers give Nyange tile-making enterprise a big lift
Rwanda: Student engineers from Santa Clara travelled to Rwanda for the third year to accompany the women in Nyange in their journey out of poverty. This year, students are designing and testing a small, battery powered cart to carry heavy, wet clay from the valley floor to the roadside molding shed and kiln that will finish roofing tiles. The Nyange community, with the help of a second group of Santa Clara students from the Food and Agribusiness Institute, rebuilt the narrow path from the valley to the roadside to accommodate the new cart. On the last days with the students, Nyange women learned how to use the cart and brought the first loads of clay to their molding shed. Thank you Santa Clara for your partnership.
The progress in Nyange over the past year has been amazing. With the financial and technical assistance of friends the cooperative has:
* constructed a large trench kiln that can fire 5,000 roofing tiles at one time,
* built a finishing shed with four stations to mold tiles and space to dry and store them,
* leveled a large site to construct a roadside park and market, and
* dug the pits for modern toilets.
The next step is to complete the market place where they will sell their roofing tiles. The next project for Santa Clara engineers is to bring water to this roadside site. For more information about Santa Clara University Engineers without Borders, check out their website https://ewbscu.com/ and Facebook page https://www.facebook.com/ewbSantaClara/
Organizing began in Nyange in 2013 when the mayor of Muganga invited Pr. John to work with the poorest women in the area, many who were widowed as a result of the genocide. The process began by identifying the meager resources they had – land with clay pits and their own labor. Pr. John secured training for a few women in how to make roofing tiles. They in turn trained others. They began by building homes for the poorest women of the community and then started a roofing tile business. At first, the work was all done through back breaking labor – mixing the clay, molding it by hand, and baking in a primitive kiln. This was just enough to roof three homes and sell a few to fellow villagers. Now they are on the road to something no one imagined possible. Thank you to the Chicago Donor Circle who provided the funds to accompany these amazing women on their journey.