Every person has a role to play in social change. Whether you're interested in building or strengthening an organization in your country or starting a solidary group in your community in the U.S., sign up for our monthly updates and let us know if you'd like to talk.
Build support for international grassroots organizing in your community
Across the U.S., small groups, congregations, and diaspora communities are working to build support for grassroots organizing in Haiti, Central America, and Africa. They're forming donor circles to raise funding. They're also hosting dialogues to raise awareness of what people are doing to create change in other countries. And they're meeting with their Members of Congress to advocate for better U.S. foreign policy. We're also connecting congregations and community organizations in the U.S. to grassroots organizations in Haiti, Central America, and Africa to promote long-term solidarity relationships.
Participate in A Way Forward in Haiti
Through A Way Forward in Haiti, faith communities and grassroots organizations in the U.S. and Haiti are working together to press the U.S. to support Haitian-led efforts to restore security and democracy to Haiti. We hold monthly meetings with U.S. officials, Members of Congress, Haitian civic and religious leaders, and allies such as the Institute for Justice and Development in Haiti, Haitian Apostolate, and National Haitian American Elected Officials Network (NHAEON).
In 2021, diaspora pressure played an important role in supporting successful COVID prevention efforts in Haiti and pushing the Biden Administration to send vaccines to Haiti.
U.S. foreign, development, and economic policies have a profound impact on the well-being of Haitian children and families. For too long, the U.S. has backed elites who have canceled elections and engaged in widespread corruption, and crowded out locally-led organizations by allocating 96.3 percent of USAID assistance to international for-profit contractors and NGOs. We are working to ground U.S. Haiti policies in the wisdom of Haitian civil society leaders.
A key focus of our efforts through A Way Forward in Haiti is to persuade USAID to make local Haitian farmers a bigger part of the agency's response to rising hunger. While USAID has more than $100m in agricultural projects in North and Northeast Haiti, managed by foreign contractors and NGOs, very little funding is allocated to the key inputs of irrigation, seeds, and tools that local farmers say they need to plant successfully. We're working to change that, so Haitian farmers can adapt to climate change and restore their capacity to feed their country.
Participate in the Root Causes Initiative
In December 2019, grassroots and faith-based organizations and religious leaders from El Salvador, Honduras, Guatemala, Mexico, and the U.S. met in Mexico City to launch the Root Causes Initiative to change the underlying conditions causing poverty and forcing Central Americans to migrate. Working virtually, we built a shared regional agenda and brought civic and religious leaders from Central America into discussions with high-level officials from the U.S. State Department, National Security Council, USAID, and the U.S. Congress. We've also organized campaigns to press for changes in policies related to human rights and rule of law, migration, and respect for migrants and refugees, and locally-led development.
Sign up for monthly updates to learn more about the Root Causes Initiative and participate in regular Zoom meetings.
Partner with Faith in Action International
Faith in Action International member organizations are adapted to the unique cultural, political, economic, and religious dynamics in their countries. Grassroots organizing methods and practices are powerful tools that people can adapt to their local context.
Here are the commitments we share in common:
Leadership development: Faith in Action International organizations rely on intentional methods and processes to nurture people's leadership. One-to-ones, team building, listening campaigns, research meetings, public actions, reflection, and evaluation are integral to our movement. These practices help people develop a collective identity and see themselves as active and powerful agents for social change.
Powerful, accountable organizations: People build power, make their voices heard, and create social change through organizations. Dozens of community-based teams serve as the building block for national organizations that are memes of Faith in Action International. These local teams are responsible for listening to and organizing everyone in their community. Sometimes these teams are based in congregations; other times, they are neighborhood or community-based. Then, national organizations build structures – committees, alliances, campaigns – that make it possible for local teams to work together to mobilize resources and influence decisions at a regional, national, and international level. At all levels, member organizations and the organizational structures they create are democratic, multi-faith, and accountable to grassroots leaders.
System change: Our aim is to enable and motivate people to mobilize their available human, financial, and other resources to make tangible improvements in communities and change systems and structures that perpetuate poverty. We begin locally with available resources while recognizing the people must have a say over the larger policy decisions that shape their lives. We are working to create a world in which economic and social systems are organized to promote integral human development for everyone and protect the planet that nourishes us, not just enrich a small circle of wealthy and powerful people and institutions.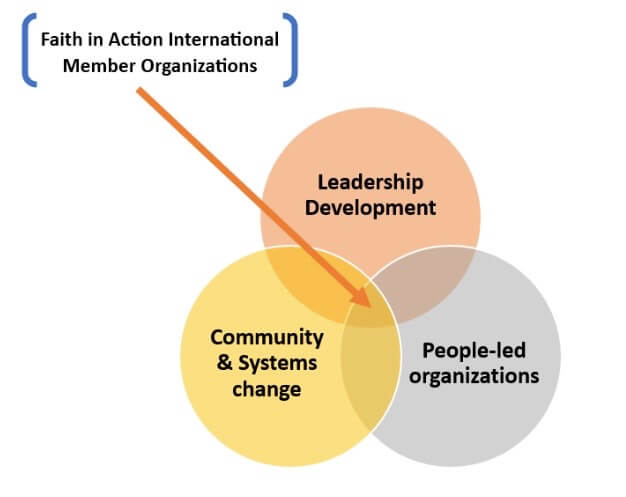 Building a people-powered movement
El Salvador / Central America History
In 2002, Cardinal Oscar Rodriguez, Honduras, invited FIA to work with Catholic Church leaders in all six Central American countries to revitalize base Christian communities dedicated to justice for the most vulnerable.

Rwanda/Africa History
Faith in Action Rwanda was formed by Pastor John Rutsindintwarane, a native Rwandan, who began organizing in Rwanda in 2006 after a one year internship with the U.S. Faith in Action affiliate Oakland Community Organizations.

Haiti/Caribbean History
Faith in Action International's newest organizing project, Organisation Peuple Œcuménique pour le Developpment du Nord-Est (OPODNE), was formally launched in August 2014 when 100 leaders from across Northeast Haiti gathered at a General Assembly.