Haiti
Faith in Action International has supported grassroots organizing in Haiti since 2014. Today, the People's Organization for the Development of Haiti (OPODNE) works with teams of grassroots leaders who meet weekly in 56 communities across Northeast Haiti and four communities in North Haiti. OPODNE's grassroots leaders are leading a campaign to restore the capacity of Haitians to feed themselves. They are pressing for investments in irrigation, seed banks, tools, and assistance from agronomists to adapt to climate change.  OPODNE community teams have formed and sustained twelve cooperatives (fishing, peanut, vegetable, chicken, bananas, peppers, and household and farm supplies) to generate income for local residents and meet community needs. In an environment where the government is dysfunctional and lacks resources, OPODNE members have organized dozens of community improvement activities like road building, tree planting, clean-ups, and teacher training.  OPODNE also operates three micro-lending programs.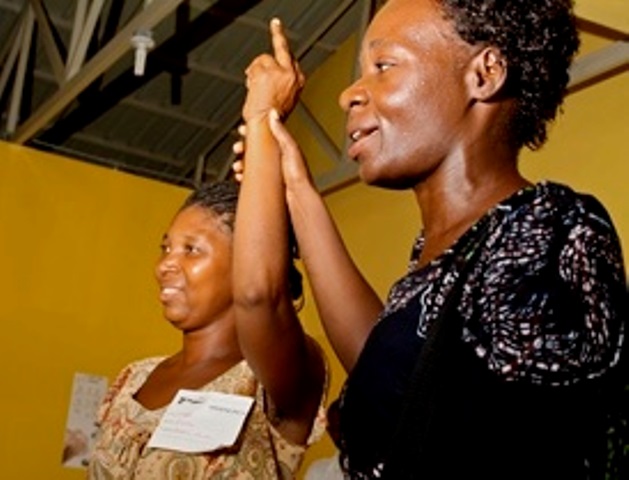 Our History in Haiti
Faith in Action International supports grassroots organizing in Haiti through the Organisation Peuple Œcuménique pour le Developpment du Nord-Est (OPODNE). OPODNE's mission is to raise incomes and improve living conditions in Haiti by developing the leadership and power of local residents. Through OPODNE grassroots leaders are taking charge of the development of their communities. They are listening to the concerns of their neighbors, setting community priorities, organizing economic cooperatives, negotiating development projects, and holding public officials accountable.
Campaigning to fight hunger by supporting local Haitian farmers
In August 2022, 300 OPODNE grassroots leaders, local mayors and religious leaders gathered to launch a campaign to restore the capacity of Haitians to feed themselves. LET'S PLANT TODAY SO WE CAN FEED OURSELVES TOMORROW aims to change agricultural policy and practices pursued by the Haitian Government, international aid agencies, such as USAID, and NGO's to provide greater support to local Haitian farmers around priorities they identify. OPODNE leaders surveyed more than 4,000 small farmers across Northeast Haiti to understand the challenges they face in responding to drought and climate change and what needs they have. OPODNE is supporting farmers in building cooperatives and campaigning for access to high-quality seeds, tool banks, irrigation, access to agronomists, and improved roads to get crops to market.
Improving lives under difficult conditions
OPODNE's accomplishments include:
Creating twelve cooperatives in eight communities (Terrier Rouge household goods wholesale co-op; Capotille peanut, banana and fish-farm co-ops; Grand Bassin chicken co-op: Phaeton fishing co-op); Mombin Crochu agricultural and child care co-ops; Mont Organise pepper and goat co-op; Caracol vegetable co-op; & Vallieres chayote co-op.) generating an estimated $300,000 USD in income, along with micro-lending projects in fourcommunities, Mombin Crochu, Mont Organise, Gran Bassin and Capotille. Income from cooperatives is divided 40% to income, 40% reinvested in co-op projects, 10% emergency funds; & 10% to support OPODNE costs.
Carrying out dozens of community and environmental improvement projects, including road clean-ups , tree-planting, water purification, and completing a contract to build a road between Mombin Crochu & Grand Savanne, which employed 88 people.
A department-wide COVID education and prevention campaign in Northeast Haiti (pop. 393,967) which reached 35,000 people, through weekly radio shows, training 600+ community COVID educators, announcements at public markets, and distributing masks, gloves, disinfectant, dozens of washing stations, and 5,700 educational fliers; and working with the regional ministry of health to raise awareness and acceptance of COVID vaccines.
OPODNE's membership is organized through local teams of residents in 22 mostly rural, often very remote communities across Northeast Haiti. OPODNE members are primarily small-scale farmers and merchants, but also teachers and medical workers. OPODNE was founded with support from the Catholic Church and more than 20 Catholic and Protestant clergy participate in the organization, making resources and land available for OPODNE's community improvement projects.
OPODNE is also currently working with Cap-Haïtien Archbishop Launay Saturné (who is also the President of the Haitian Catholic Bishops Conference) to seed a new sister-organization in the Nord Department. The 56 Northeast communities where OPODNE works include: Caracol 1, Caracol 2, Cahesse, Bas- Saline, Lombard, Village ECAM, Gran Bassin, Ferrier, Mombin Crochu, Bois de, Grand Savanne, Laguamithe, La Hatte, Logathe, Sylvestre, Mont Organise, Terrier Rouge, Paulette, Phaeton, Sainte Suzanne, and Vallieres. Teams of OPODNE leaders meet weekly in each of the 56 communities where the organization works. Every summer, each team organizes elections for their President and Board Members. Hundreds of people in each community vote in these elections. Click here to help OPODNE grow its grassroots organizing in Haiti.