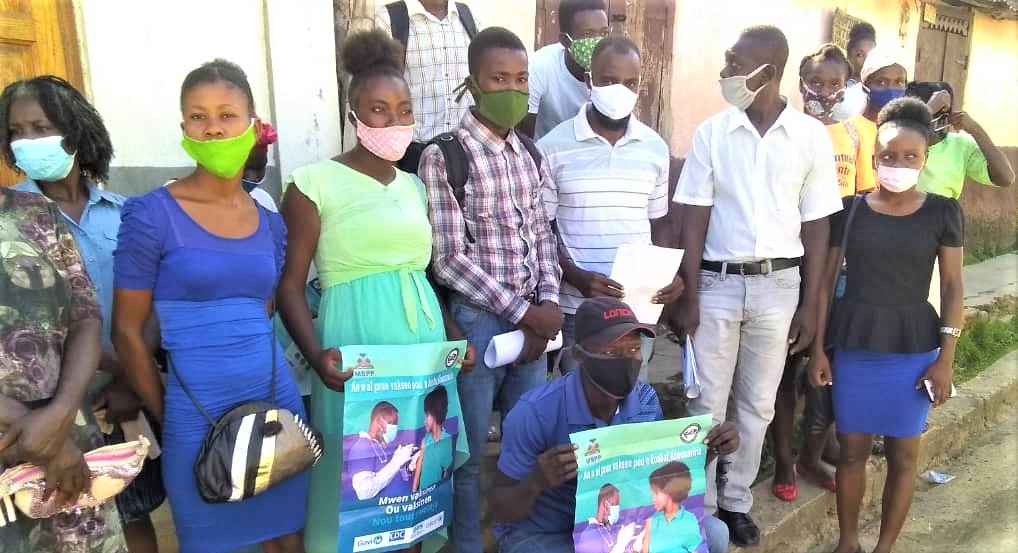 Haiti: Vaccines reaching rural communities in Northeast
"We are reaching out to every corner of our community to encourage people to take the vaccine." – President of OPODNE Terrier Rouge Leadership Team
People in rural, isolated Northeast Haiti villages are now getting COVID vaccinations. How did this happen? Over the summer, more than 2,000 people signed our letter asking President Biden to send vaccines to Haiti. Since then, 500,000 vaccines have been delivered, with 1,000 vaccines going to the Northeast Department. Early plans there were to vaccinate people in cities. OPODNE changed that plan.
In early September, OPODNE leaders met with Ministry of Health officials and negotiated an agreement to expand the COVID vaccination program into isolated, rural communities. The Ministry of Health is making vaccines and personnel available to deliver vaccinations. OPODNE has launched an outreach program, including door-to-door visits, to provide information about the vaccine and overcome huge resistance by the population fueled by social media disinformation.
OPODNE has recruited 19 core leaders with medical experience who received training and materials. They in turn trained 100 leaders from 30 towns and villages who recruited 1,000 people who are sharing information with their communities. People are signing up for vaccinations. The success of this campaign will let the Minister of Health request many more vaccines to cover the growing demand that OPODNE generates. Local communities in Haiti know how to get things done if we learn how to follow their lead.
Remember to sign our petition telling President Biden to support the efforts of civil society and faith-based organizations to restore democracy in Haiti.