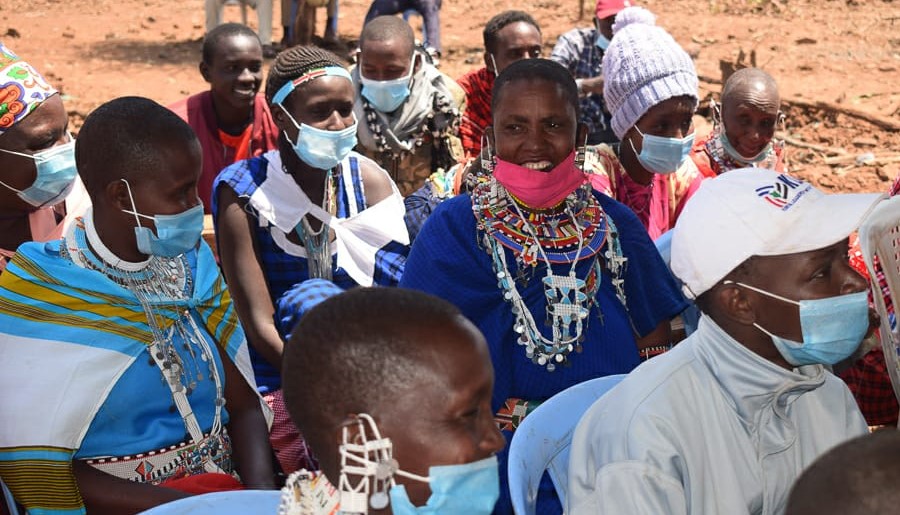 Rwanda: Fr. Innocent shares model of empowerment with Maasai leaders in Kenya.
"We will always use your mentorship towards attaining our vision of empowering Maasai community and all Kenyans for sustainable development." – Jackson Sokoine Martine, Maasai Transformation Organization
While communities in Mumeya, Nyange, Rusumo and Nyarubuye continue organizing activities through pandemic lockdown, PICO Rwanda Associate Director Fr. Innocent Rugaragu responded to the invitation by the Maasai Transformation Organizations (MATRO) to explore the Faith in Action model of empowerment and development at work in Rwanda. Seventy leaders from twenty villages gathered for two days of mutual learning, discussing critical cultural, economic and political issues. The Maasai are a marginalized, pastoral tribe in Kenya seeking to adapt their cultural and political practices and determine their own future in Maasailand as it is being transformed, especially by shifts from communal to individual ownership and devastation by climate change.
On a personal note, we are grateful that Pastor John Rutsindintwarane will return to Rwanda this month after recovering from minor surgery. He will join Fr. Innocent and PICO Rwanda leaders when they gather to assess their learning during the COVID crisis and plan future growth and activities.  PICO Rwanda now works in six rural and urban regions. Community leaders throughout Rwanda are gaining the skills to organize their own labor and financial resources and leverage the support of the Rwandan government to meet the needs of their people. In addition to work in Kenya, conversations are also underway with faith leaders from diverse faith backgrounds in Ghana, Tanzania, and South Africa to launch similar efforts based on this model of faith-rooted organizing.