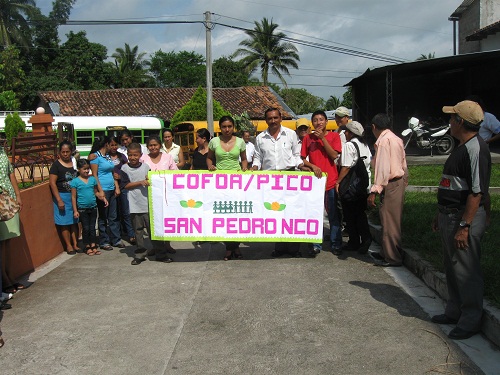 United Neighbors = Safe Neighborhoods Campaign
Escalating crime and violence is an issue throughout El Salvador. A recent UN study noted that El Salvador and Honduras have the highest homicide rates in the world. COFOA listening campaigns have surfaced violence as a key problem in building strong communities. In 2010 COFOA launched a United Neighbors = Safe Neighborhoods campaign through a 1500 person march in Zacatecoluca. Several COFOA member congregations are exploring how they might launch similar efforts.
In San Pedro Nonualco, COFOA leaders kicked off a campaign to create neighborhood watch and clean-up teams in all six neighborhoods in the town, and held a town-wide clean-up. Two of the neighborhoods have formed teams and the other four are in process. These teams are being formed through basic organizing principles: 1-1 conversations, house meetings, group discussions and prioritizing issues.  The teams are also going to serve as neighborhood watch groups.
Representatives of each neighborhood group will be part of the leadership team at the congregation. The strategy is to reduce crime and violence and to build a stronger COFOA base, expanding the relationships with the Local Organizing Committee and involving new leaders and congregations. They are planning a community meeting with the Chief Department of the National Civil Police (PNC), the Mayor and the local general attorney's office to present their problems and get these authorities to commit to solutions that will reduce violence.