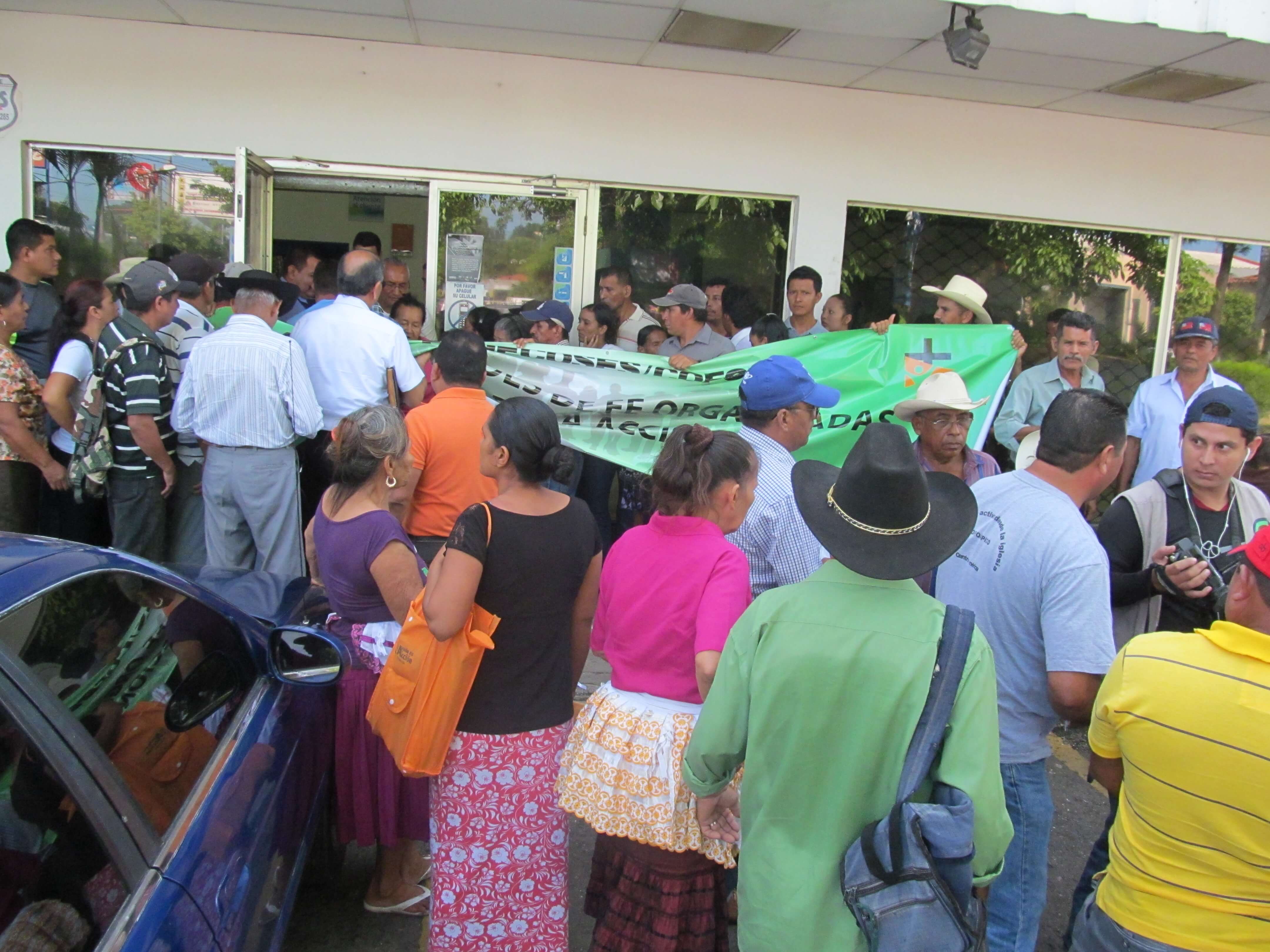 Usulutan Rural Communities Organize Protest to Get Attention for Critical Issues
Metal poles supplying electricity to homes in local villages are electrocuting pigs in farmer's fields-cutting into the small profit they make from their farming. Usulatan residents fear for the safety of their children given the electrical threat. And farmers can't get their livestock to market or their children to the doctor when rains flood Rio Roldan. COFOA leaders and residents have fought for years to get a promised bridge and install new electric poles.
Angry that previous written requests to public officials got no response, thirty COFOA leaders organized a protest at the local utility company, followed by unannounced visits to the offices of four legislators. Their persistent chants attracted media attention and secured a meeting with Alberto Henríquez, manager of the utility company, Distribuidora Electrica de Usulutan (DEUSEM). He promised to immediately send an inspector to investigate and put the problem on the agenda of the utilities commission.
These leaders then marched to the legislative assembly offices and handed out fliers to the four Assembly Members who have not responded to their request for an answer about the promised bridge across Roldan River. Assembly Member Roxana Cruz met with them and promised to deliver the letters to the other members and attend a public meeting as soon as possible. Earlier in June, Assembly Member Estrela Hernandez met with them and promised to pressure the mayor and Ministry of Public Works to respond.
Leaders from the villages of El Carmen, El Numero, Los Castillo, San Juan de Letrán, La Tequera, Linares, Barrio Roldan and San Marcos Lempa know they must act in solidarity if they hope to get attention to this isolated rural area in the Usulutan Department in El Salvador. The Anglican Church is providing valuable support and leadership in this effort.
We welcome your participation through donations and support. Visit us on our Face Book page to follow this story. We know it will end well.