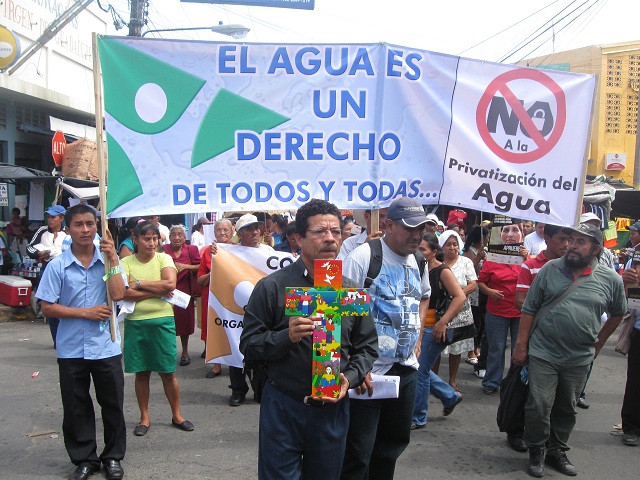 COFOA Demands National Legislation to Affirm That Water is a Human Right
Nearly all water in El Salvador is contaminated. As a member of the National Water Forum, COFOA leaders have campaigned for passage of the General Water Law.
They support passage of the General Water Law to prevent privatization, reduce water pollution and ensure equity in water access.  They believe water is a human right and that access must be managed by state and civil society representatives, not private firms.
In June, COFOA partnered with managers of local water boards in the La Paz Department to take action. Leaders invited La Paz legislative representatives to attend the assembly and share their position on the General Water Law. 1,200 leaders marched to the Cathedral of Our Lady of the Poor in Zacatecoluca.  At the Cathedral, leaders waited for four deputies of the Department of La Paz who had committed to attend but did not appear.
People were outraged by their absence, and submitted a letter signed by at least 2,000 leading firms who were angered by the lack of accountability on the part of the deputies.  Work continues. Water is a human right and must be accessible to all.