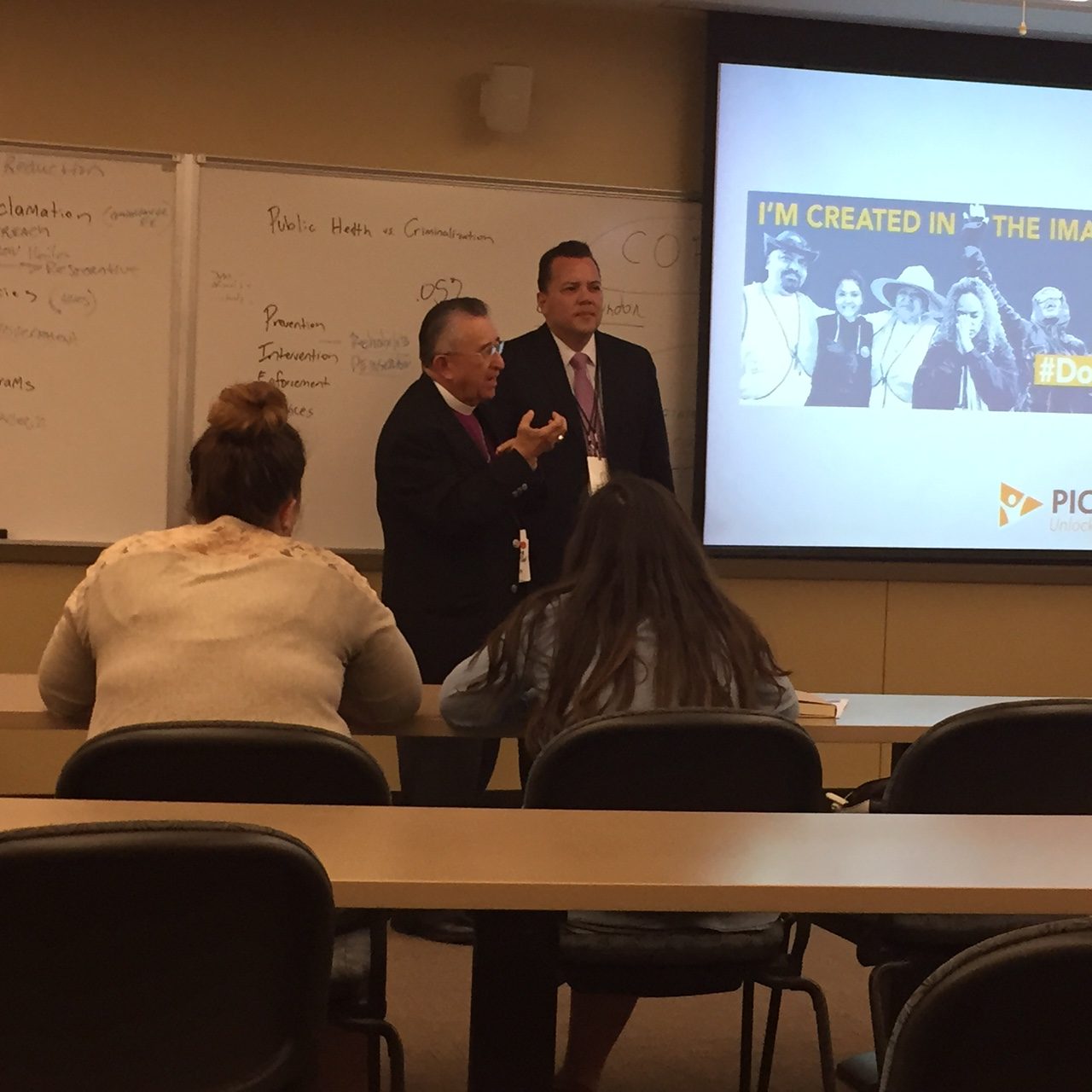 El Salvador Clergy Seek Support for Anti-Violence Work at US Congress, United Nations and the Faith Leaders.
Anglican Bishop Martin Barahona and Evangelical Pastor Fredy Segovia are members of El Salvador's National Council for Security, advocating for prevention and intervention policies to reduce violence. Fr. Moises Lopez works with gang members in San Luis Talpa to provide jobs as an alternative to violence.
They are frustrated with the government's "Mano Dura" enforcement first approach which has escalated, not reduced, the numbers of homicides. There is a huge need to build public support for less punitive approaches to violence. For several months they have led efforts to bring the message of peace, life, and justice and find allies in the United States and globally.
COFOA continues its local and national campaign to seek alternatives to violence, including decriminalization of drug possession and investment in job training and education. As part of this work, recently Bp. Barahona and Pr. Fredy shared their advocacy for a public health/harm reduction approach with faith leaders gathered at the United Nations and the Justice Conference in Chicago. Testimony by Fr. Moises about his work with gang members in San Luis Talpa was most moving. Securing a small grant and inspired by Homeboy Industries in Los Angeles, Fr. Moises worked in neighborhoods with armed guards to develop a relationship with gang members to open a small fish farm and a small bakery to provide employment. Initially successful, he was forced to close the operation when the police pursued and arrested a young man from the neighborhood with no criminal record who sought refuge at the bakery.
At the conference, PICO National Network leaders pledged to support these efforts to address the intertwined issues of migration and violence.
In April, Bp. Barahona spoke on several occasions on behalf of the Caravan for Life, Peace and Justice as it travelled through Honduras, El Salvador, Guatemala, Mexico and the United States, bringing the stories to the United Nations Special Session on Drug Policy of the hundreds of thousands of people impacted by the failed war on drugs. At an Interfaith Worship Service at the UN Chapel on April 18, Bp. Barahona shared the message that God calls us to stand with the people who are economically marginalized, forced to migrate, and imprisoned.
On the caravan route, Bp. Barahona, Pr. Segovia, COFOA staff member Aleida Almendarez and other members of the caravan met with US Congress members Earl Blumenauer (D-OR), Rep. Beto O'Rourke (D-TX), Rep. Jared Polis (D-CO) and Sen. Timothy M. Kaine (D-VA) in Washington D.C. to share how the failed war on drugs continues to drive violence and migration in El Salvador. The $750 million allocated by Congress through the Alliance for Progress Plan focuses too much on strengthening security policies and preventing Salvadorans' migration. Early results seem to be an escalating war between police and gangs. Poor communities in need of new opportunities are not seeing the resources required to prevent migration.
Join us as a partner and follow the story of COFOA clergy and leaders in their fight for peace and justice by visiting our website and liking us on Face Book.