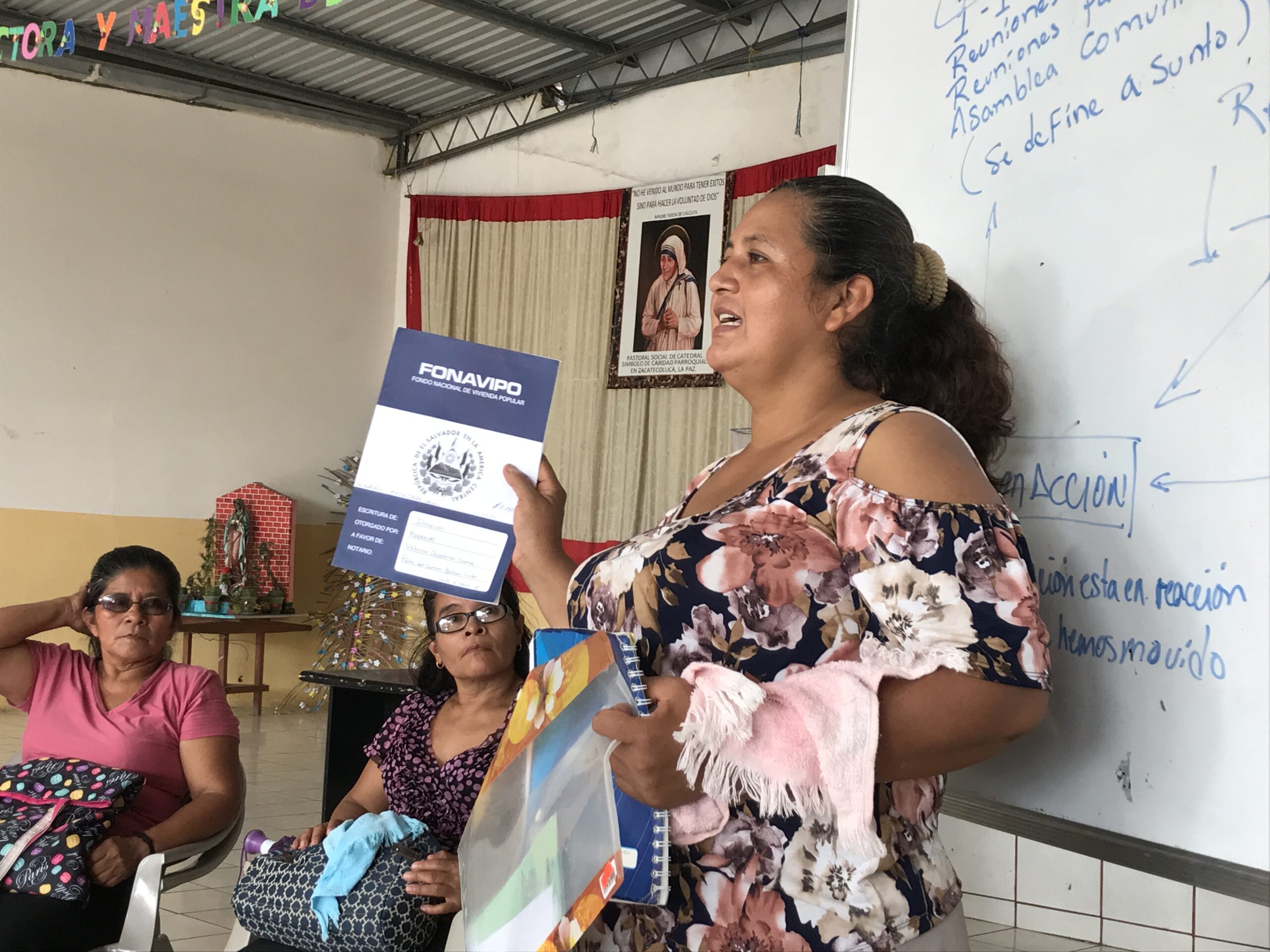 The Struggle for Land Rights in El Salvador
One in five Salvadoran families lives on land they don't own. They've been defrauded by developers. Without legal ownership, families cannot sell their property or borrow to make improvements, and their communities are in limbo, unable to obtain paved streets, water, green spaces and schools. Through Communities of Faith Organizing for Action (COFOA) grassroots leaders in El Salvador are using grassroots community organizing tools to win land rights for 350,000 families and pave the way for clean water, health clinics and schools in their communities.
From 1979 to 1992, the U.S. spent $6 billion supporting El Salvador's military regime in a civil war that killed 75,000 people and forced more than one million people from their homes. Many of those displaced migrated to the U.S. Others moved to precarious settlements without water, streets, and public services. 
In 2018, almost 30 years after the war ended, organizers from Communities Organizing for Faith in Action (COFOA) began working in one of these areas where people had paid for their land but never received their titles. Without titles, people couldn't sell their property or borrow to make improvements. Nor would municipalities pave streets, provide water or develop green spaces, leaving communities in limbo. After organizing for a year, eighty families celebrated when the Minister of Housing presented them with titles to their properties, collectively worth over one million dollars.
Word of their success quickly spread. In summer 2020, during the height of the pandemic, residents from across El Salvador came together to launch a national campaign known as RENACER (REBIRTH). Their goal was to pass national legislation to resolve the land titles for 350,000 families, and obtain public investment for water systems, electricity, paved streets, green spaces, schools, and health clinics in these subdivisions. 
The RENACER campaign is led by teams of grassroots leaders from 58 developments across El Salvador. These developers are home to more than 7,500 families. Through RENACER, grassroots leaders held dozens of public events, including a large march to the Salvadoran Presidential Palace, and put the issue of land titles on the national agenda. Their work resulted in the passage of national legislation. In 2022 they began negotiating with the National Housing Minister to regularize titles in the 58 developments where COFOA is organizing.
COFOA's RENACER campaign is ongoing and faces many obstacles. The campaign seeks to regularize titles worth more than $1 billion. Success requires holding the largest real estate developers in the country accountable, something which has never been done in El Salvador. Recently, COFOA joined a lawsuit against one of the largest developers in the country to speed up the process of transferring land ownership.
When Faith in Action International brings delegations to El Salvador we visit Centro Monsenor Romero honoring the nuns,  priests, and laypeople killed standing up for land rights and human dignity during the civil war.  With El Salvador still pulled apart by extreme inequality and violence, COFOA leaders, clergy and organizers are carrying forward that struggle for justice in our own time.
"We will be heard! We need our deeds to our homes so we can live in dignity. Our fight will continue, and we will stay strong." 

– PATRICIA DE GONZALEZ, COFOA leader