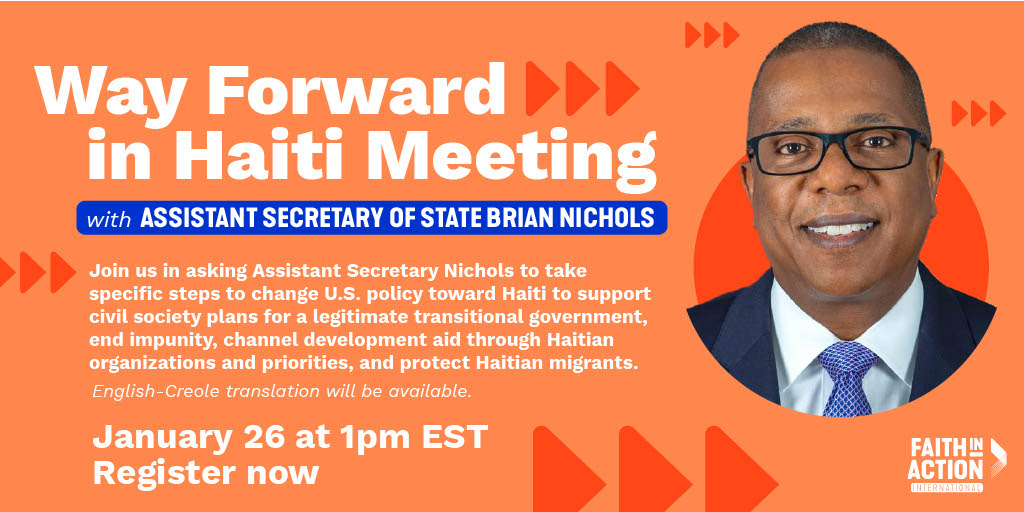 Assistant Secretary of State Nichols responds to our Way Forward in Haiti policy ideas
On January 26th, the Faith in Action International "A Way Forward in Haiti" steering committee held a discussion with U.S. Assistant Secretary of State, Brian Nichols. You can listen here to his response to the following Haiti policy ideas presented by the Way Forward in Haiti National Steering Committee
Transitional government: State Department support for the broad civil society effort to create a legitimate transitional government, without granting the current prime minister a de-facto veto over the transition process. As part of this commitment hold high-level consultations with the Commission for a Haitian-Led Solution.
Rule of Law: Use every tool available to support Haitian efforts against impunity by (a) placing Haitian politicians and business people responsible for human rights abuses and corruption, including those connected to the Martelly and Moïse regimes, on the Global Magnitsky list, with sanctions, such as withdrawing visas and freezing assets; (b) communicating to the Department of Justice the need to pursue corruption cases with a nexus to U.S., (c) working with civic organizations and the international community to build a Haitian-led anti-impunity institution; (d) tightening export enforcement on guns and ensuring that weapons to the police are not misused; and (e) supporting the Haitian judicial system to increase the ability for people to safely report violence and extortion.
Community-led Development: Support Haitian-led development by shifting the flow of U.S. development assistance to Haiti from international companies and NGOs to Haitian organizations and following Haitian civil society priorities, such as agricultural self[1]sufficiency. As part of this commitment, organize a meeting with USAID Administrator Samantha Power, State Department Leadership, and Haitian civil society and faith-based organizations, to plan concrete changes in how USAID operates in Haiti.
Protecting Haitian migrants: Halt deportation flights to Haiti, given the lack of security and humanitarian crisis facing Haiti, grant humanitarian parole to Haitian migrants facing deportation in the U.S. and those stuck in dangerous limbo in Mexico, and re[1]open the U.S. Embassy in Port-au-Prince to allow people to apply for the Haitian Family Reunification Parole program.