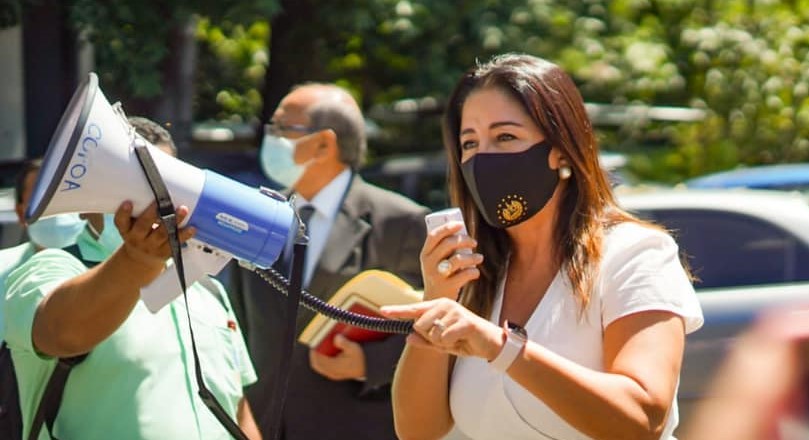 El Salvador: COFOA gets commitment from Minister of Housing to fix deeds for thousands of families
"We reiterate our commitment to low-income families, and we have made available our technical, social and legal teams, who will be accompanying them. The call is for developers to present these projects for regularization". – Michelle Sol Minister of Housing
"Now our challenge is to make the Minister fulfill the commitments she made today, but if we continue to work hard and with the purpose, we will succeed." – COFOA leader
On October 7, more than 500 people gathered outside while COFOA leaders representing 7500 families from 50 communities met with Minister of Housing, Michele Sol, to describe their multi-year effort to secure and record legal deeds for properties that they had paid for many years ago, and negotiate changes to a flawed property title law passed by the National Assembly.
After this negotiating meeting, the minister addressed the group rallying outside the Housing Ministry and committed to provide technical and legal teams to assist homeowners in this process. She called on developers to cooperate, requested the Attorney General to conduct criminal investigations where needed, and promised to review new "land rights" law passed at COFOA's insistence.
These commitments were widely publicized through twitter and face book by the national press secretary and the minister of housing. The meeting took place two months after 1,000 people delivered individual letters to the residence of Salvadoran President Bukele demanding justice. The Minister finally agreed to meet after COFOA leaders conducted many press interviews and flooded the Ministry office with phone calls.
We congratulate COFOA on another significant step toward their vision of making government accountable to the people.