Happy Mother's Day from PICO International
Hello, and Happy Mother's Day!
We invite you to honor your mother by empowering another! Florcie, Specioza, and Martha are moms making a difference for themselves and their children. And they are teaching more women to become leaders in their countries. This Mother's Day, give a gift that multiplies the work of these heroic mothers from Haiti, Rwanda and El Salvador. Here are their stories.
My name is Florcie Tyrell. My husband and I are parents of two teenage daughters. It is hard being a woman – and a mom – in Haiti.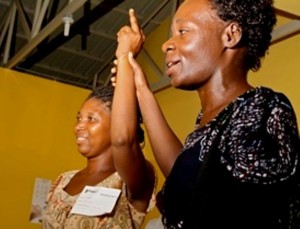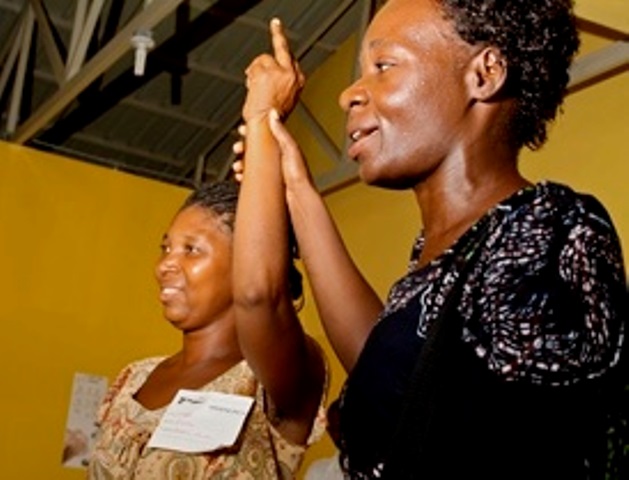 We have to work very hard to help our families survive.  I worry a lot about my girls. Will they be safe? Will they get a good education? Will they be respected?
In Northeast Haiti, there aren't many opportunities such as jobs that we can count on that will improve living conditions.  But I have been determined to find a way.  When I got involved with PICO three years ago, I learned that communities can figure out for themselves what they need to do to improve their lives. I believe this is what my girls need.  I believe this is what the people of Haiti need.
Now I work for PICO.  I travel all over the Northeast to meet with groups of leaders who are learning how to improve their own lives through PICO training. Sometimes it takes me a half a day to get up the rough mountain roads to meet with farmers. Some walk four hours just for the chance to plan and work together. We are making progress, organizing peanut, sorghum, chicken and fishing co-ops. We are fixing roads, planting trees and cleaning up trash. Women and men are working together as equals.  I am determined to make PICO work. My girls need it. My community needs it. Haiti needs it.
My name is Dusegimana Speciose. I live in Mumeya, Rwanda, with my husband and family. Five years ago we adopted a little girl.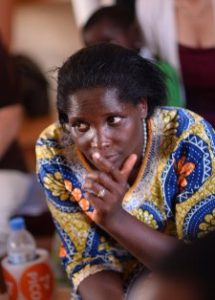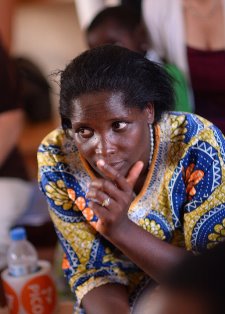 Her mom died in childbirth just before our community finished our health clinic. Working with PICO, we decided building our own clinic was the most important thing we could do.  Mothers and children in our region had to travel long distances if they needed health care, and many died – and a lot of children were sick from malaria or malnutrition.  Before PICO, we never thought we could change our lives.  PICO taught us how to talk to each other and get everyone involved. We named our little girl Pico to honor what PICO means to us.
I am proud to be a leader with PICO Rwanda. Together, we have built a road, a clinic, a community center and a school. We were able to get public officials to bring us electricity and running water for the villages. Now I am helping train people in Nyange and Rusumo. They are building their own houses and their own clinic. This cooperation between people who have decided to take action for the good of the whole community is giving us a new family.
My name is Martha Esperanza Gomez.  Greetings from San Pedro Nonualco, my special little village in El Salvador. I am a leader in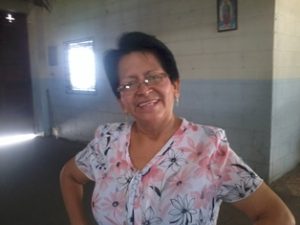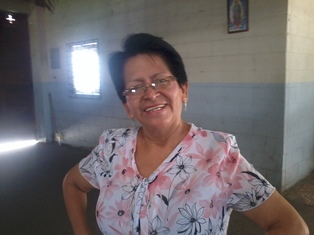 COFOA. As a mother of three sons who are now adults, I thank God that through COFOA I've learned how to organize so that our lives could be better. COFOA has helped me set an example for my family, my church, and my community.
In my church, I learned how to speak up, talk with clergy and find solutions to parish problems.  I learned how to represent my community to politicians, heads of ministries, the mayor and others – so that we could work together to improve conditions in our town.  Now I am helping teach 60 young leaders how to organize.  COFOA has helped my family, my community and these young leaders to have confidence, build new relationships, and lead projects like our Safe Neighborhoods campaign. Uniting people from all parts of our community, we are bringing a culture of peace to our region.  We hope someday you will visit our great country, and especially our village of San Pedro Nonualco.
We invite you to make a donation of $25, $50, $100, or $1,000. You can specify your gift to support the work of Florcie, Specioza or Martha as they teach others how to become leaders in their country. Please do so with the enclosed envelope or on-line. Honor your mother by empowering another! This Mother's Day, give a gift that empowers mothers across the globe. Thank you!
John Baumann, S.J., Founder & Director of Special Projects