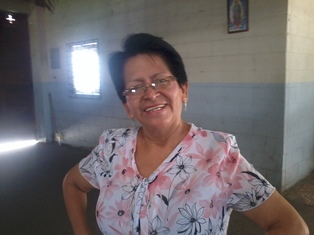 Mother's Day Message from Martha
My name is Martha Esperanza Gomez. Greetings from San Pedro Nonualco, my special little village in El Salvador. I am a leader in COFOA. As mother of three sons who are now adults, I thank God that through COFOA I've learned how to organize so that our lives could be better. COFOA has helped me set an example for my family, my church, and my community.
In my church, I learned how to speak up, talk with clergy and find solutions to parish problems. I learned how to represent my community to politicians, heads of ministries, the mayor and others – so that we could work together to improve conditions in our town. Now I am helping teach 60 young leaders how to organize. COFOA has helped my family, my community and these young leaders to have confidence, to build new relationships, and lead projects like our Safe Neighborhoods campaign. Uniting people from all parts of our community, we are bringing a culture of peace to our region. We hope someday you will visit our great country, and especially our village of San Pedro Nonualco.
Watch her video.