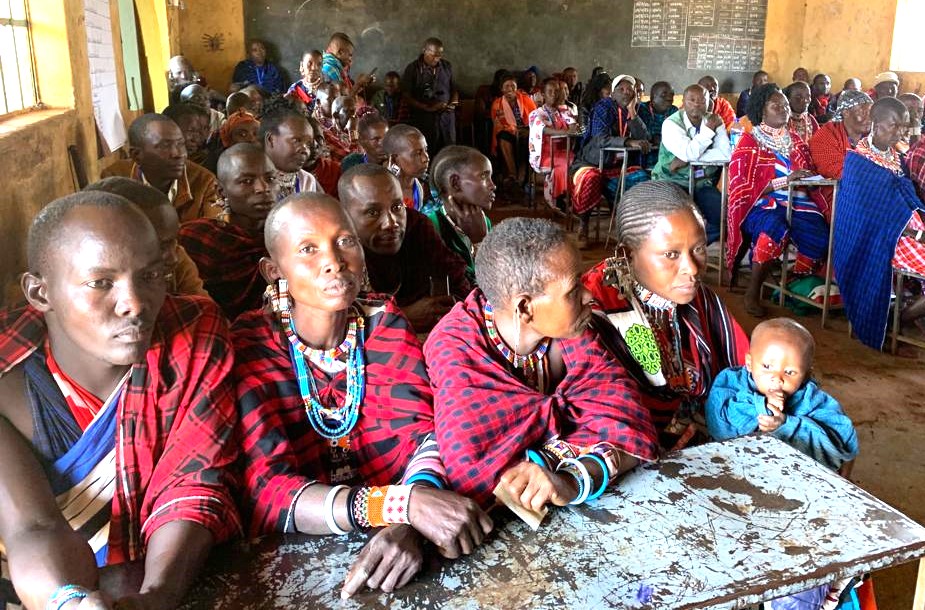 Rwanda: Maasai leaders in Kenya utilized Rwanda organizing methods to address critical issues.
"We would like to thank Fr. Innocent Rugaragu who traveled all the way from Rwanda to come and support our community in our villages in Kenya. – Jackson, Maasai Transformation Organization
Seeing the successful work in Rwanda, where local grassroots leaders from Mumeya and Nyarubuye are teaching nearby villagers how to use organizing tools to build new schools, the Maasai Transformation Organization (MATRO) asked for support from Faith in Action International/PICO-Rwanda to organize a workshop for 60 Maasai community leaders from 10 villages in Kenya.
These leaders were selected and trained to be the ambassadors of MATRO in advocating for positive transformation through outreach among the Maasai community. However, because of interest 150 people attended.
Reports from extensive outreach reported that retrogressive harmful traditional practices (HTPs) such as sexual and gender-based violence (S/GBV), female genital mutilation/cut (FGM/C), child/early and forced marriages are among the main obstacles that deny gender equal opportunities for education, health, and socio-economic development among the Maasai community. Other challenges included ignorance, drought, lack of water, poor infrastructure and diseases. Leaders also noted that positive aspects of Maasai culture including courage/boldness, teamwork, respect, peaceful-coexistence with nature and other communities, environment conservation and the fear of God.
The village leaders committed themselves to be the ambassadors and agents for change in their respective communities/villages through continued commitment to work towards abolishment of HTPs; to advocating for positive changes that promote justice, peace, and social-economic development; and encouraging formal education of Maasai children.
Leaders supported by Faith in Action across Africa are taking the initiative to listen, think and act. They are not waiting for others. In November, 100 Ghana Faith Intiiatve leaders from eight regions will reconvene to report on their listening campaign and plan action. PICO Rwanda leaders will also meet in November to plan their continued growth as an organization.